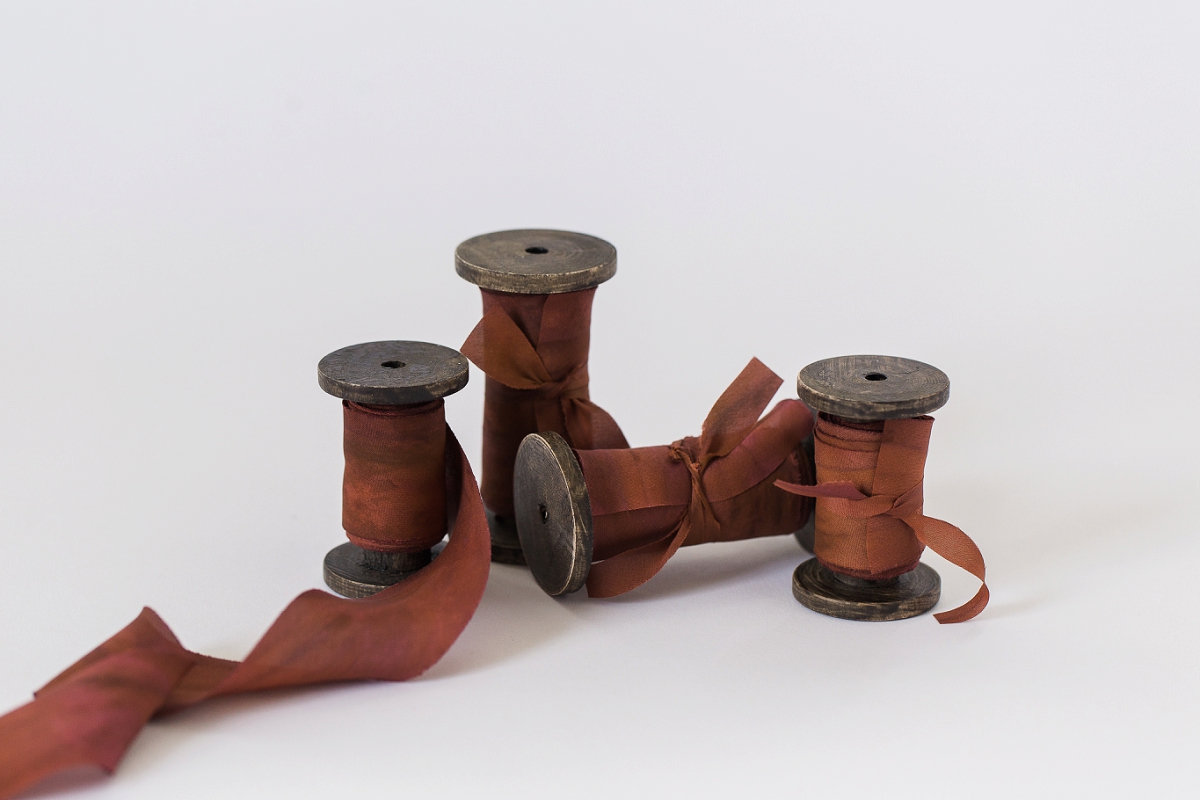 CHERRY
Luxuriöse Seidenbänder aus 100% Seide im Schrägschnitt geschnitten. Handgefärbt mit pflanzlichen Mitteln, gebügelt und auf eine Spule gewickelt.
Die Bandbreiten betragen 2 - 2.5cm und 3.5cm und die Längen 3m und 5m Meter.
Die 6cm breiten Bänder sind in den Längen 2m und 3m erhältlich. Hier ist ebenfalls eine Spule im Preis mit enthalten.
Luxury bias cut silk ribbon. Hand dyed with botanics, pressed and spooled on a wooden stained spool.
The width options are 2.5cm and 3.5cm with a lenght option of 3 and 5meters.
The 6cm wide ribbons are available in 2meter and 3meter length.
Perfekt für Sträuße und Verpackungen um dem Ganzen eine besondere Note zu geben.
Eine schöne/optimale Länge für einen Brautstrauß ist 2-3 Meter.
Die Ränder neigen mit der Zeit dazu, leicht fransig zu werden, das jedoch ist das Schöne an Seidenbändern.
Bitte nur mit kaltem / lauwarmen Wasser und einer pH neutralen Seife/Spülmittel säubern, um den Farbton möglichst lange zu schützen und das Schrumpfen des Stoffes zu vermeiden.
Unsere Bänder sind "Schrägschnitt Bänder", sprich es gibt circa alle 2 Meter eine kleine feine Naht. Das ist bei Schrägschnitt Bändern nicht zu vermeiden, ist aber in der Regel kein Problem und sieht auch nicht negativ aus.
Wir haben uns bewusst für Schrägschnitt Bänder entschieden, weil wir finden, dass diese schöner liegen/hängen und besser im Wind flattern als die geraden Bänder (wo dann keine Naht wäre).
Luxury 100% Habotai Silk bias cut ribbon, which means there is a seam every two meters. That being said, if you order only one meter, the possibility of you having the seam within that meter is there. Unfortunatelly I am not able to change that.
Please carefully handwash with pH neutral soap to protect the color and Silk.